$2.99
AUD
Category: Philosophy | Series: Penguin Little Black Classics
Why do I know a few more things? Why am I so clever altogether? Self-celebrating and self-mocking autobiographical writings from Ecce Homo, the last work iconoclastic German philosopher Nietzsche wrote before his descent into madness.   One of 46 new books in the bestselling Little Black Classics s eries, to celebrate the first ever Penguin Classic in 1946. ...Show more
$35.00
AUD
Category: Philosophy
The Sunday Times Bestseller and New York Times Bestseller. A book of hope for uncertain times. 'Feeling a little blue? Meet the new Winnie the Pooh.' The Daily Mail 'A wonderful work of art and a wonderful window into the human heart' Richard Curtis Enter the world of Charlie's four unlikely friends, di scover their story and their most important life lessons. The conversations of the boy, the mole, the fox and the horse have been shared thousands of times online, recreated in school art classes, hung on hospital walls and turned into tattoos. In Charlie's first book, you will find his most-loved illustrations and some new ones too.     ...Show more
$5.99
AUD
Category: Philosophy
'Opportunities multiply as they are seized.' Written in the 6th century BC, Sun Tzu's The Art of War is a Chinese military treatise that is still revered today as the ultimate commentary on war and military strategy. Focusing on the principle that one can outsmart your foe mentally by thinking very care fully about strategy before resorting to physical battle, this philosophy continues to be applied to the corporate and business world. Sun Tzu's timeless appraisal of the different aspects of warfare are laid out in 13 chapters, including sections on 'Laying Plans', 'Waging War' and 'Terrain'. Words that are as resonant today in every aspect of our lives as they were when he wrote them. ...Show more
$14.99
AUD
Category: Philosophy | Series: Penguin Classics Ser. | Reading Level: General Adult
Beyond Good and Evil (German: Jenseits von Gut und Böse; subtitled "Prelude to a Philosophy of the Future" (German: Vorspiel einer Philosophie der Zukunft)) is a book by the philosopher Friedrich Nietzsche, first published in 1886. It takes up and expands on the ideas of his previous work, Thus Spoke Za rathustra, but approached from a more critical, polemical direction. In Beyond Good and Evil, Nietzsche accuses past philosophers of lacking critical sense and blindly accepting Judeo-Christian premises in their consideration of morality. The work moves into the realm "beyond good and evil" in the sense of leaving behind the traditional morality which Nietzsche subjects to a destructive critique in favour of what he regards as an affirmative approach that fearlessly confronts the perspectival nature of knowledge and the perilous condition of the modern individual. ...Show more
$32.99
AUD
Category: Philosophy
THE INTERNATIONAL BESTSELLERA Guardian, Daily Telegraph, New Statesman and Daily Express Book of the Year'Hugely, highly and happily recommended' Stephen Fry'You should read Humankind. You'll learn a lot (I did) and you'll have good reason to feel better about the human race' Tim Harford'Made me see hum anity from a fresh perspective' Yuval Noah HarariIt's a belief that unites the left and right, psychologists and philosophers, writers and historians. It drives the headlines that surround us and the laws that touch our lives. From Machiavelli to Hobbes, Freud to Dawkins, the roots of this belief have sunk deep into Western thought. Human beings, we're taught, are by nature selfish and governed by self-interest.Humankind makes a new argument- that it is realistic, as well as revolutionary, to assume that people are good. By thinking the worst of others, we bring out the worst in our politics and economics too.In this major book, internationally bestselling author Rutger Bregman takes some of the world's most famous studies and events and reframes them, providing a new perspective on the last 200,000 years of human history. From the real-life Lord of the Flies to the Blitz, a Siberian fox farm to an infamous New York murder, Stanley Milgram's Yale shock machine to the Stanford prison experiment, Bregman shows how believing in human kindness and altruism can be a new way to think and act as the foundation for achieving true change in our society.It is time for a new view of human nature.   ...Show more
$19.99
AUD
Category: Philosophy
The story of philosophy through 100 wonderful quotes.
$24.95
AUD
Category: Philosophy | Series: Columbia Themes in Philosophy Ser.
Noam Chomsky is widely known and deeply admired for being the founder of modern linguistics, one of the founders of the field of cognitive science, and perhaps the most avidly read political theorist and commentator of our time. In these lectures, he presents a lifetime of philosophical reflection on al l three of these areas of research to which he has contributed for over half a century.In clear, precise, and non-technical language, Chomsky elaborates on fifty years of scientific development in the study of language, sketching how his own work has implications for the origins of language, the close relations that language bears to thought, and its eventual biological basis. He expounds and criticizes many alternative theories, such as those that emphasize the social, the communicative, and the referential aspects of language. Chomsky reviews how new discoveries about language overcome what seemed to be highly problematic assumptions in the past. He also investigates the apparent scope and limits of human cognitive capacities and what the human mind can seriously investigate, in the light of history of science and philosophical reflection and current understanding. Moving from language and mind to society and politics, he concludes with a searching exploration and philosophical defense of a position he describes as "libertarian socialism," tracing its links to anarchism and the ideas of John Dewey, and even briefly to the ideas of Marx and Mill, demonstrating its conceptual growth out of our historical past and urgent relation to matters of the present. ...Show more
$22.99
AUD
Category: Philosophy | Reading Level: very good
'A wonderful page-turner about a fascinating idea that should affect the way every thinking person thinks about the world around him' Michael Lewis In this brilliant and original book, Malcolm Gladwell explains and analyses the 'tipping point', that magic moment when ideas, trends and social behaviour cross a threshold, tip and spread like wildfire. Taking a look behind the surface of many familiar occurrences in our everyday world, Gladwell explains the fascinating social dynamics that cause rapid change. 'Hip and hopeful, THE TIPPING POINT is like the idea it describes: concise, elegant but packed with social power. A book for anyone who cares about how society works and how we can make it better' George Stephanopoulos ...Show more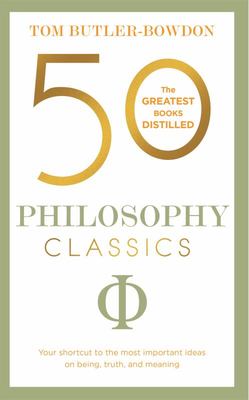 $19.99
AUD
Category: Philosophy | Series: 50 Classics Ser.
For over 2000 years, philosophy has been our best guide to the experience of being human, and the true nature of reality. From Aristotle, Plato, Epicurus, Confucius, Cicero and Heraclitus in ancient times to 17th century rationalists Descartes, Leibniz and Spinoza, from 20th-century greats Jean-Paul Sar tre, Jean Baudrillard and Simone de Beauvoir to contemporary thinkers Michael Sandel, Peter Singer and Slavoj Zizek, 50 Philosophy Classics explores key writings that have shaped the discipline and had an impact on the real world. Philosophy can no longer be confined to academia, and 50 Philosophy Classics shows how powerful it can be as a tool for opening our minds and helping us think. Whether you are fascinated or daunted by the big questions of how to think, how to be, how to act and how to see, this is the perfect introduction to some of humanity's greatest minds and their landmark books. ...Show more
$14.99
AUD
Category: Philosophy
A book which speaks directly to the confusions and agonies of existence, detailing a personal, philosophical odyssey.