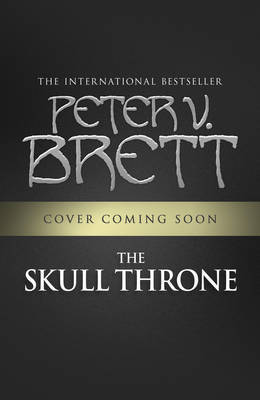 $9.99
AUD
$29.99
(66% off)
Category: Fantasy | Series: The Demon Cycle
In the grand tradition of George R.R. Martin and Robert Jordan, Sunday Times bestselling author Peter V. Brett continues his critically acclaimed Demon Cycle with the next dramatic instalment: THE SKULL THRONE. The Skull Throne of Krasia stands empty. Built from the skulls of fallen generals and demon p rinces, it is a seat of honour and ancient, powerful magic, keeping the demon corelings at bay. From atop the throne, Ahmann Jardir was meant to conquer the known world, forging its isolated peoples into a unified army to rise up and end the demon war once and for all. But Arlen Bales, the Warded Man, stood against this course, challenging Jardir to a duel he could not in honour refuse. Rather than risk defeat, Arlen cast them both from a precipice, leaving the world without a saviour, and opening a struggle for succession that threatens to tear the Free Cities of Thesa apart. In the south, Inevera, Jardir's first wife, must find a way to keep their sons from killing one another and plunging their people into civil war as they strive for glory enough to make a claim on the throne. In the north, Leesha Paper and Rojer Inn struggle to forge an alliance between the duchies of Angiers and Miln against the Krasians before it is too late. Caught in the crossfire is the duchy of Lakton-rich and unprotected, ripe for conquest. All the while, the corelings have been growing stronger, and without Arlen and Jardir there may be none strong enough to stop them. Only Renna Bales may know more about the fate of the missing men, but she, too, has disappeared... ...Show more
$19.99
AUD
Category: Fantasy | Series: Riftwar Saga Ser.
The whole of the magnificent Riftwar Cycle by bestselling author Raymond E. Feist, master of magic and adventure, now available in ebook As Prince Arutha and his companions rally their forces for the final battle with an ancient and mysterious evil, the dread necromancer Marcos the Black has once again unleashed his dark sorcerery. Now the fate of two worlds will be decided in a titanic struggle beneath the walls of Sethanon, as the link between Kelewan and Midkemia is revived. A Darkness at Sethanon concludes Raymond E. Feist's bestselling Riftwar Saga. ...Show more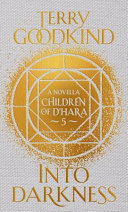 $29.99
AUD
Category: Fantasy | Series: The\Children of D'Hara Ser.
'The Sword of Truth series was my masterwork. Yet, life for these characters goes on after the conclusion of that series. For years readers have been asking about Richard and Kahlan's children. This is that story' TERRY GOODKIND. In 1994 Wizard's First Rule introduced Richard Cypher, a young woodsman s eeking answers and vengeance in the aftermath of his father's murder, and Kahlan Amnell, a mysterious young woman pursued by a bloodthirsty tyrant's assassins. The Sword of Truth is one of the most ambitious fantasy series ever written. It was a decades-long masterwork that has been translated into 20 languages and sold 26 million copies. After 16 volumes and one novella, it concluded in 2016 with Warheart. The Children of D'Hara picks up immediately after the conclusion of the Sword of Truth series. The story will be told in installments, as novella-length episodes published every three months. Into Darkness is the fifth novella. ...Show more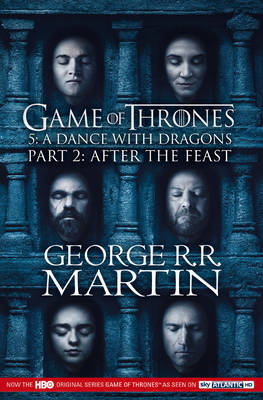 $9.99
AUD
$22.99
(56% off)
Category: Fantasy | Series: Song of Ice and Fire Ser.
HBO's hit series A GAME OF THRONES is based on George R.R. Martin's internationally bestselling series A SONG OF ICE AND FIRE, the greatest fantasy epic of the modern age. Beyond the Wall, Jon Snow's Night's Watch is riven by treachery, enemies both mortal and supernatural are massing, while in the Nor th the combatants at Winterfell are engulfed by the worst winter snows ever seen. In King's Landing Cersei Lannister finds herself abandoned by everyone she trusts. Her brother Tyrion, having fled a death sentence, is making his way ever east towards Meereen, where Daenerys Targaryen struggles to rule a city full of death. The rise of Daenerys is known to many in Westeros now. From the Iron Islands and Dorne, Oldtown and the Free Cities, emissaries are converging to join her cause or to use her, and her dragons, for their own ends. The future of the Seven Kingdoms hangs in the balance. The great dance is beginning... ...Show more
$29.99
AUD
Category: Fantasy | Series: Crescent City | Reading Level: very good
#1 New York Times bestselling author Sarah J. Maas launches her brand-new CRESCENT CITY series with House of Earth and Blood; the story of half-Fae and half-human Bryce Quinlan as she seeks revenge in a contemporary fantasy world of magic, danger, and searing romance.   Half-Fae, half-human Bryce Quinla n loves her life. By day, she works for an antiquities dealer, selling barely legal magical artifacts, and by night, she parties with her friends, savoring every pleasure Lunathion—otherwise known as Crescent City—has to offer. But it all comes crumbling down when a ruthless murder shakes the very foundations of the city—and Bryce's world. Two years later, her job has become a dead end, and she now seeks only blissful oblivion in the city's most notorious nightclubs. But when the murderer attacks again, Bryce finds herself dragged into the investigation and paired with an infamous Fallen angel whose own brutal past haunts his every step. Hunt Athalar, personal assassin for the Archangels, wants nothing to do with Bryce Quinlan, despite being ordered to protect her. She stands for everything he once rebelled against and seems more interested in partying than solving the murder, no matter how close to home it might hit. But Hunt soon realizes there's far more to Bryce than meets the eye—and that he's going to have to find a way to work with her if they want to solve this case. As Bryce and Hunt race to untangle the mystery, they have no way of knowing the threads they tug ripple through the underbelly of the city, across warring continents, and down to the darkest levels of Hel, where things that have been sleeping for millennia are beginning to stir... With unforgettable characters and page-turning suspense, this richly inventive new fantasy series by bestselling author Sarah J. Maas delves into the heartache of loss, the price of freedom—and the power of love.     ...Show more
$9.99
AUD
$22.99
(56% off)
Category: Fantasy | Series: Fitz and the Fool Ser. | Reading Level: very good
NEW YORK TIMES BESTSELLER - The stunning conclusion to Robin Hobb's Fitz and the Fool trilogy, which began with Fool's Assassin and Fool's Quest   "Every new Robin Hobb novel is a cause for celebration. Along with millions of her other fans, I delight in every visit to the Six Duchies, the Rain Wilds, a nd the Out Islands, and can't wait to see where she'll take me next."--George R. R. Martin   More than twenty years ago, the first epic fantasy novel featuring FitzChivalry Farseer and his mysterious, often maddening friend the Fool struck like a bolt of brilliant lightning. Now New York Times bestselling author Robin Hobb brings to a momentous close the third trilogy featuring these beloved characters in a novel of unsurpassed artistry that is sure to endure as one of the great masterworks of the genre.   Fitz's young daughter, Bee, has been kidnapped by the Servants, a secret society whose members not only dream of possible futures but use their prophecies to add to their wealth and influence. Bee plays a crucial part in these dreams--but just what part remains uncertain.   As Bee is dragged by her sadistic captors across half the world, Fitz and the Fool, believing her dead, embark on a mission of revenge that will take them to the distant island where the Servants reside--a place the Fool once called home and later called prison. It was a hell the Fool escaped, maimed and blinded, swearing never to return.   For all his injuries, however, the Fool is not as helpless as he seems. He is a dreamer too, able to shape the future. And though Fitz is no longer the peerless assassin of his youth, he remains a man to be reckoned with--deadly with blades and poison, and adept in Farseer magic. And their goal is simple: to make sure not a single Servant survives their scourge. ...Show more
$9.99
AUD
$22.99
(56% off)
Category: Fantasy | Series: The\Firemane Saga Ser. | Reading Level: good
A new novel from internationally bestselling author Raymond E. Feist. The world of Garn once boasted five great kingdoms, until the King of Ithrace was defeated and every member of his family executed by Lodavico, the ruthless King of Sandura, a man with ambitions to rule the world. Ithrace's ruling fam ily were the legendary Firemanes, and represented a great danger to the other kings. Now four great kingdoms remain, on the brink of war. But rumour has it that the newborn son of the last king of Ithrace survived, carried off during battle and sequestered by the Quelli Nacosti, a secret society whose members are trained to infiltrate and spy upon the rich and powerful throughout Garn. Terrified that this may be true, and that the child will grow to maturity with bloody revenge in his heart, the four kings have placed a huge bounty on the child's head. In the small village of Oncon, Declan is apprenticed to a master blacksmith, learning the secrets of producing the mythical king's steel. Oncon is situated in the Covenant, a neutral region lying between two warring kingdoms. Since the Covenant was declared, the region has existed in peace, until violence explodes as slavers descend upon the village to capture young men to press as soldiers for Sandura. Declan must escape, to take his priceless knowledge to Baron Daylon Dumarch, ruler of Marquensas, perhaps the only man who can defeat Lodavico of Sandura, who has now allied himself with the fanatical Church of the One, which is marching across the continent, imposing its extreme form of religion upon the population and burning unbelievers as they go. Meanwhile, on the island of Coaltachin, the secret domain of the Quelli Nacosti, three friends are being schooled in the deadly arts of espionage and assassination: Donte, son of one of the most powerful masters of the order; Hava, a serious girl with fighting abilities that can set any opponent on their back; and Hatu, a strange, conflicted lad in whom fury and calm war constantly, whose hair is a bright and fiery shade of red... ...Show more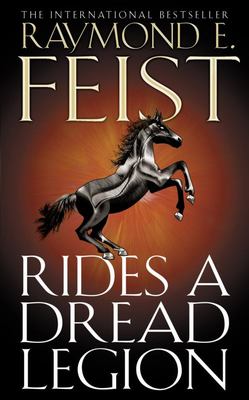 $19.99
AUD
Category: Fantasy | Series: The\Riftwar Cycle: the Demonwar Saga Book 1 Ser.
The first book in a brand new series by the master of epic fantasy, Raymond E. Feist. Ten years after the cataclysmic events of Wrath of a Mad God took place, Midkemia now faces a new danger thought buried in myth and antiquity. A lost race of elves, the taredhel or 'people of the stars', have found a w ay across the universe to reach Midkemia. On their current home world, these elves are hard pressed by a ravaging demon horde, and what was once a huge empire has been reduced to a handful of survivors. The cornerstone of taredhel lore is the tale of their lost origins in the world they call simply 'Home', a place lost in the mists of time. Now they are convinced that Midkemia is that place, and they are coming to reclaim it. Ruthless and arrogant, the taredhel intend to let nothing stand in their way; but before long, Pug and the Conclave realise that it's not necessarily the elves, but the demon horde pursuing them where the true danger lies. And hanging over Pug always is the prophecy that he will be doomed to watch everyone he loves die before him... ...Show more
$24.99
AUD
Category: Fantasy
Painstakingly restored from Tolkien's manuscripts and presented for the first time as a fully continuous and standalone story, this illustrated paperback of the epic tale of The Children of Húrin will reunite fans of The Hobbit and The Lord of the Rings with Elves, dragons, Dwarves and Orcs, and the ric h landscape and characters unique to Tolkien. It is a legendary time long before The Lord of the Rings, and Morgoth, the first Dark Lord, dwells in the vast fortress of Angband in the North; and within the shadow of the fear of Angband, and the war waged by Morgoth against the Elves, the fates of Túrin and his sister Niënor will be tragically entwined. Their brief and passionate lives are dominated by the elemental hatred that Morgoth bears them as the children of Húrin, the man who dared to defy him to his face. Against them Morgoth sends his most formidable servant, Glaurung, a powerful spirit in the form of a huge wingless dragon of fire, in an attempt to fulfil the curse of Morgoth, and destroy the children of Húrin. Begun by J.R.R. Tolkien at the end of the First World War, The Children of Húrin became the dominant story in his later work on Middle-earth. But he could not bring it to a final and finished form. In this book Christopher Tolkien has constructed, after long study of the manuscripts, a coherent narrative without any editorial invention. ...Show more
$39.95
AUD
Category: Fantasy
Sumptuous, oversized hardback edition of the classic adventure, fully illustrated with over 60 watercolour and pencil illustrations by award-winning artist, Alan Lee, Conceptual Designer on Peter Jackson's THE HOBBIT: AN UNEXPECTED JOURNEY. J.R.R. Tolkien's great classic work, The Hobbit, celebrated its 60th year of publication (1937) with a gorgeous illustrated edition by artist Alan Lee, winner of the Kate Greenaway medal for illustration, and creator of the fabulously successful Centenary edition of The Lord of the Rings. Containing 22 full colour illustrations depicting key scenes from this all-time classic (scenes such as Gollum and Bilbo, The Wargs, Smaug the Dragon and The Battle of the Five Armies), this beautifully designed volume also includes a wealth of integrated pencil drawings which demonstrate perfectly Alan's genius at work. Alan Lee's work on this book, as well as the illustrated Lord of the Rings, led to him being approached by Peter Jackson to join the film trilogy as Conceptual Artist. The same artistic vision, present in his beautiful paintings and drawings, played a major role in the look of the films, and his work received the ultimate accolade with an Academy Award for Best Art Direction on The Return of the King. ...Show more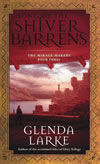 $4.99
AUD
$20.99
(76% off)
Category: Fantasy
Kardiastan has finally earned its freedom. Ligea's revolution has succeeded and she plans to go back to Kardiastan and Temellin, but events conspire to hold her back. Meanwhile, Arrant is consumed by guilt and nothing he does to earn himself a place as his father's heir can assuage it.